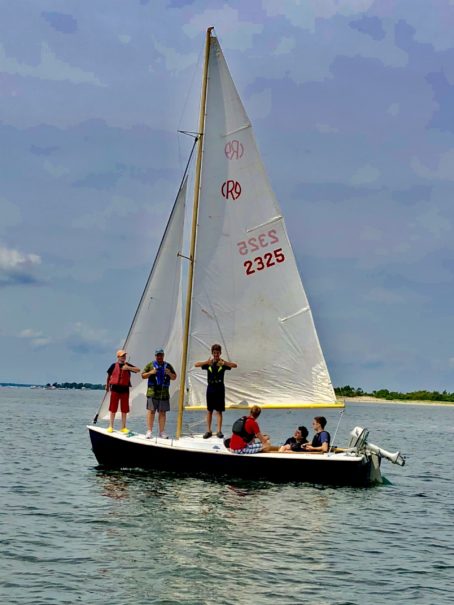 Adventure Sail for 2022
Are you interested in sailing with your friends this summer in a small group? Join us for 4 days of all-day adventure sailing in the Ipswich Bay and beyond!
Adventure sail is a full day program in which sailors learn to handle a larger boat in our program's nineteen foot sailboat.
Expect to be on the water exploring and learning all day. Sailors will have the opportunity to eat lunch, but the location may depend on where they adventure to each day!
Requirements:
* We require sailors sign up in a group to ensure appropriate class size and keep a consistent group of sailors
* Open to new and experienced sailors
* Groups of 2-4 sailors
* Recommended for ages 10+
The class curriculum is flexible!  This means it can be catered towards beginners and very
experienced sailors. Therefore, this program is great for younger sailors who are not yet big enough to sail 420s as well as groups of friends who are of different levels of experience, age, or size!
Important Information
If a student gets easily seasick it is recommended that they join one of our other classes.  Adventure




sailors should assume that they will be out on the water all day.

 Sailors within the boat must get along with one another.  There is a zero-tolerance policy for




bad behavior and fighting within the Adventure Sail Program.
Adventure Sail Application Form
Look for the 2022 Application after the New Year
To insure speed and accuracy, please start the registration process by completing this online form.
If you are not sure which class to select you can email [email protected]